Seven Simple Tips for Weatherizing Your Garage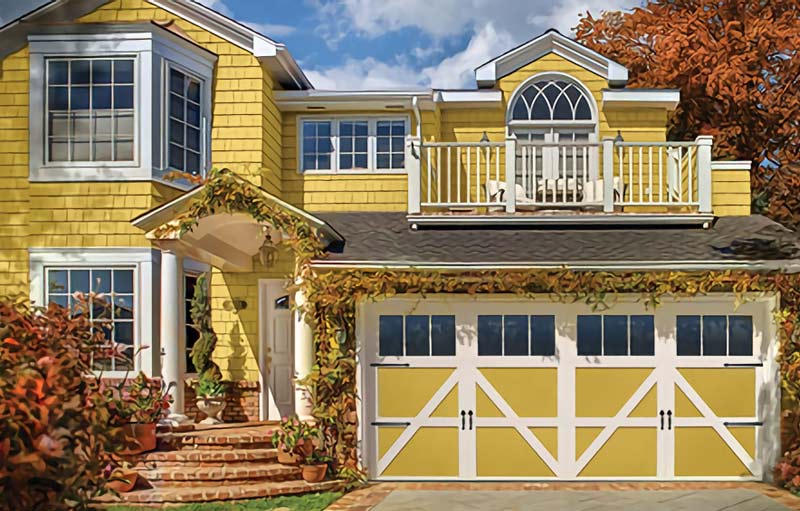 Now that winter is right around the corner, it's time to prepare for the cold weather. You've probably already taken some steps to weatherize your home, but did you remember to include your garage in your plans for winter readiness?
Your attached garage acts like a buffer between the outdoors and your interior living space, and can be a source of considerable energy loss if it's letting in cold air from outside. So, it needs to be weatherized, especially if your garage functions as a laundry room, workshop or other space with consistent in and out traffic. Otherwise, all that cold air will eventually make its way into your home, driving up your energy costs.
Even your unattached garage will benefit from weatherization, since vehicles and stored items like lawn equipment and power tools can be damaged by exposure to the cold.
Fortunately, there are some easy improvements you can make to your garage in order to increase energy efficiency and reduce heating costs during these cold winter months.
Here are seven changes that will lower your next heating bill:
Insulate Your Garage Door
One of the best ways to significantly improve the climate of your garage is to add insulation to the door, as this is a major source of heat loss in the winter. Single-panel, uninsulated doors made of metal or vinyl significantly contribute to energy inefficiency. In fact, engineers at Clopay Doors determined that in 20 °F weather, an insulated door would keep a garage 12° warmer than an uninsulated door. In cold weather, that twelve-degree difference could easily determine if your vehicle does or doesn't start in the morning.
Insulating your garage door is surprisingly easy. In fact, you can buy door insulation kits which contain pre-cut pieces of rigid foam insulation and adhesive. All you need is the make and model of your garage door.
Alternatively, you can cut your own pieces, using the interior dimensions of the panels, and 2-in. rigid foam insulation. Just make sure the adhesive you use is rated for foam board or expanded polystyrene. Otherwise the solvents or additives in the adhesive could damage the insulation.
If your garage door is old or in rough shape already, you may decide replacing your current garage door with a new, insulated model makes more sense. Hamburg Overhead Door will happily guide you through the process of selecting a new garage door.
We provide free sales estimates on our replacement doors, and offers a variety of options, including those from Clopay, Haas and Wayne Dalton. And with a national return-on-investment average of 97.5%, replacing your garage door is one of the best home improvement investments you can make.
Caulk Your Garage Door (and Windows)
Caulk sealant fills in surface imperfections, keeping out both cold air and moisture. When weatherizing, you'll want to apply caulk to the perimeter of your garage door—but not the door itself—as well as any windows. Just don't caulk underneath the window.
First, remove any old caulk by scoring it with a utility knife. Second, prime the area that you'll be caulking, if you're dealing with wood or wood-based materials. The primer will provide a good adhesion surface for the caulk.
Third, measure the size of the gap you'll be filling, since that will determine what you do next.
If your joints are 1/2-in. deep or 1/4-in. wide (or larger), you'll want to use a caulk backing rod (also known as pre-caulking filler rope, backer foam or grip strips) first. These foam rods are water resistant, and easily fit into the gaps, meaning you'll spend less time and money actually caulking. When selecting your backing rod, be sure to choose a size at least 1/8-in. wider than the gap.
If you'll be caulking smaller, shallower gaps, you can simply use a toolable insulating foam sealant.
Once you're filled the gaps, with either the backing rods or foam sealant, you can move on to actually caulking the gaps. To make things easier and neater, consider putting down some painter's tape first, so your lines are straight, and clean-up is simpler. Make sure you've chosen caulk that's meant for outdoors, traditionally silicone, acrylic or polyurethane caulk. (Make sure you have mineral spirits on hand if you choose polyurethane.)
Upgrade Weatherstripping
You can also apply flexible vinyl weatherstripping around your garage door. First, remove the old doorstop at the top, making sure to pull out all the old nails. Cut the new doorstop to length, and press it against the top of the frame, until the vinyl is at approximately a 45° angle to the door.
Tack, don't drive, 11/2-in. nails into the weatherstripping every few feet. Then, do the same thing along both the right and left sides of the door.
Once all three sides have been tacked into place, press firmly against the door. If you notice any gaps, pull the nails out, and reattach the weatherstripping more snugly. Once you have a tight seal, go back and sink all the nails.
Don't forget to apply weatherstripping to the individual garage door panels as well. Gaps between the panels, which are necessary for the door to angle as it opens and shuts, can be a source of cold air coming into the garage.
You can seal them using foam tape weatherstripping. Alternatively, you can use V-type weatherstripping. The V-shape acts like a hinge, compressing the weatherstripping to fully seal gaps.
Install A Garage Door Sweep (Bottom Seal)
A door sweep, also called a bottom seal, provides a barrier against dust, dirt, drafts, snow and moisture. Over time this seal can flatten and crack, which reduces its utility. Fortunately, replacing it is a simple job.
First, remove the old garage door seal by pulling it out through the gap behind the door's track. Then thoroughly clean the bottom of the door, where the seal had been. Next, lubricate the track with a couple drops of dish soap. Then slowly pull the new door sweep onto the track on the bottom of the garage door.
If you have a wooden garage door, you'll have to get rid of the old seal by removing the nails holding it in place. Then seal the wood before installing a new aluminum track. To install the new track, first apply caulk. Then, while it is still wet, clamp the track in place. Then screw the track in place using 1-in. nails.
When replacing the door sweep, make sure to select a cold weather one made of silicone or similar material. These are designed to stay flexible in cold temperatures, and last longer overall.
Install a Threshold Seal
A threshold seal functions similarly to a door sweep on a garage door, but attaches to the garage floor itself, not the door. It is installed using adhesive (which is usually included in your purchase). You can install the door sweep, the threshold seal or both together.
Thresholds are great for filling larger gaps, and can be helpful in blocking surface water from entering a garage located at the end of a downward-sloping driveway. They will help keep out wind, rain, snow and shelter-seeking rodents.
Seal Switches And Outlets
Drafty electrical outlets and light switch boxes can let in significant amounts of outside air, according to the Department of Energy's Oak Ridge National Laboratory. Gaps as small as the width of a pin (1/64-in.) can contribute to heat loss. Fortunately, addressing this issue is usually a simple, inexpensive fix.
One option is to install foam gaskets behind cover plates. These fire-retardant foam pieces are pre-cut, and easily fit switch plates and outlets.
An alternative to installing the gaskets is to use caulk or foam. While regular caulk or foam can be used on wall-mounted boxes, special "intumescent" filler, which has fire-blocking properties, must be used for ceiling boxes. Regardless of the material, the process itself is simple, and should only take a few hours—including curing time.
The International Association of Certified Home Inspectors also suggests inserting child safety plugs into unused outlets to further block any cold air.
Waterproof Your Garage Floor
In the winter, you're likely to find mud, slush and salt clinging to the undercarriage of your vehicle. When you bring it into your garage, you're also bringing along all that mess—which will eventually end up on your garage floor. If it's not waterproofed, that could become problematic as moisture and chemicals leach into the concrete floor.
You can form a waterproof seal on your garage floor using a crystalline concrete agent, epoxy or waterproof paint. The benefits of crystalline concrete include being permanent and not needing reapplication. The crystals actually grow with the concrete, protecting it from intrusive liquids, and can even be reactivated if necessary.
On the other hand, both waterproof paint and epoxy are easier to install, and can be applied directly to the floor. These methods do require several days to dry though.
Hamburg Overhead Door
Whether winter deals your garage door an unexpected blow or you want to upgrade your garage door to a more energy-efficient insulated model, Hamburg Overhead Door is here for you. We offer same-day repair services and free estimates on new installations.
Contact us today to find out how Hamburg Overhead Door can help you get through this winter weather.