Garage Door Repair, Replacement and Installation FAQs
Click on the links below to find answers to your common garage door questions
How do I clean my pre-finished steel Wayne-Dalton garage door?
You can improve the appearance of your pre-finished steel garage door, and prolong the life of your door, with proper annual cleaning.
To clean the surface of your pre-finished steel garage door, simply follow these easy steps annually:
Remove dirt, chalk, and mildew by the use of a diluted solution of common bleach OR mild detergent at a concentration of one (1) cup in five (5) gallons of warm water. (Caution: Never Mix Cleansers and Bleach!)
Rinse with clear water after washing and allow to dry completely.
For added protection of a pre-painted steel door, apply wax suitable for automotive use.
You can wipe the inner surface clean like you would a range or refrigerator.
---
How do I clean my wood Wayne-Dalton garage door?
Yearly inspection and cleaning of your wood garage door exterior will pay dividends when refinishing eventually becomes necessary.
Yearly cleaning and inspecting your wood garage door is easy:
If the finish appears to be in good condition, cleaning and touch-up work is often adequate.
Remove dirt, chalk and mildew by washing your wood door with a diluted solution of mild household detergent at a concentration of one (1) cup in five (5) gallons of warm water.
Rinse with clear water after washing and allow to dry completely
If the finish is badly eroded and thin, clean the areas where the wood substrate is showing through as described above and prime those areas using an oil/alkyd primer.
Follow the cleaning and priming with a complete priming and finish coating.
If there is no bare wood showing through, finish coating only may be required.
---
How do I paint my pre-finished steel Wayne-Dalton garage door if I want to match my home's color?
Wayne-Dalton offers a variety of colors to choose from when purchasing a new pre-finished steel garage door. Painting is easy, though, should you choose to paint your door to match the color of your house or if it is required as a maintenance measure down the road.
To prepare your pre-finished steel garage door for painting, it is important to give it a good cleaning, but do not wax. Remove surface wax to prevent the paint from peeling or flaking.
Remove surface scratches which have not exposed the metal substrate by lightly buffing or sanding with 0000 steel wool or No. 400 sand paper to create a smoother surface for painting. Do not over buff or sand the garage door, because paint will not adhere to the door if the surface is too smooth.
Do not attempt to remove scratches if your steel door surface has a finish painted texture representing wood grain, stucco, etc. because of the increased danger of exposing the metal substrate. Simply paint them with a high quality metal primer. Follow drying time on primer can label before applying topcoat.
To prevent rust from forming, treat any scratches that have exposed the substrate by sanding the exposed area lightly and then painting with a high quality metal primer. Follow drying time on primer can label before applying topcoat.
After properly preparing the surface according to the above instructions and allowing it to dry thoroughly, coat the door with a premium quality latex house paint. Follow the paint label directions explicitly.
Oil base paint is not recommended.
Note that if substrate is exposed, painting with latex paint may cause accelerated rusting of steel. Follow previous instructions on priming the door for painting.
---
How do I paint my wood Wayne-Dalton garage door?
Painting and sealing are very important for wood garage doors. Annually sealing and/or painting your wood Wayne-Dalton garage door not only adds aesthetic value to your home, but it also helps prevent water damage.
If you are painting your Wayne-Dalton garage door prior to installation, be sure to do so within 10 days of purchase or the warranty period will be limited to one month.
It is important to thoroughly clean your wood garage door before you begin painting to remove any dust, dirt, or mildew that may have accumulated.
After cleaning the door, you should spot prime any areas where damage may have occurred to the factory primer using an oil/alkyd primer.
After properly preparing the surface of the door, paint the door with a quality oil base paint (satin) intended for exterior use. Follow the instructions on the paint manufacturer's finish label explicitly.
Pay particular attention to the instructions regarding surface temperature, rate of spread, coverage and recommended application procedures.
The paint can be applied by pad, spray, roller, or brush as long as the resultant film is the recommended thickness, is uniform in coverage, and is properly cured.
The following paints are NOT recommended:
Flat oil and alkyd paints
Vinyl acrylic or vinyl acetate acrylic copolymer paints
---
How important is insulation in a Wayne-Dalton garage door?
Insulating a garage door can not only lower the cost of heating or cooling your garage, but it can also lower the cost of heating or cooling your home.
Insulation is important in a garage door for many reasons. In addition to helping control the temperature, Wayne-Dalton's patented design and foamed-in-place insulation add strength to your door while reducing noise.
The amount of insulation a garage door provides is represented in its R-value, which represents its resistance to heat flow. It is important to select a garage door with an R-value that is consistent with your local climate and lifestyle. Ask yourself these questions when deciding the R-value that best fits your needs:
Is my garage climate controlled? If you heat or cool your garage, insulation is very important. Having a well-insulated garage door will keep your heating or cooling costs down by reducing the heat flow through the door.
What climate do I live in? Someone living in an extreme hot or cold climate would likely require a garage door with a high insulation value. Even in milder climates, having an insulated door can still affect the temperature in your garage by a noticeable amount, as well as provide additional benefits.
Is my garage attached to my house? If your garage is attached to your house, the insulation value of your garage door affects the insulation of your whole house. The R-value of your walls affects how much heat escapes from your house into your garage, and the R-value of your garage door affects how much heat then escapes into the environment. Insulating your garage well will help keep down the heating and cooling costs of your home. In addition, Insulation helps reduce the noise of your garage door as it opens and closes.
Do I spend a great deal of time in my garage? People who like to work on their cars or who have workshops in their garages may want their garage to be more insulated, especially if in a colder climate.
Is there a bedroom or other interior room above my garage? Many houses are built with rooms over the garage. Whether this room is a part of the house or is a separate apartment-style room above an unattached garage, the insulation value of the garage can greatly affect the insulation of the room. And, again, a higher insulation R-value can equal lower heating and cooling bills. In addition, insulation helps reduce noise.
---
How much air and wind infiltration is there?
When properly installed, the garage door perimeter seal acts as an effective barrier to air infiltration and the elements.
Proper hinge placement ensures that door sections close tightly together, edge-to-edge, with no gaps. With the perimeter seal in place and the space between sections closed, garage interiors are protected from wind, rain and snow. Two new innovations in Wayne-Dalton garage doors help prevent air infiltration even more.
Most garage door models are now equipped with our special WayneGardTM design door sections. While intended to push children's and adult's fingers out of harm's way as the door sections come together during closing, this safety feature also helps with air infiltration. With the door closed, the pinch-resistant meeting rails help shut out wind and blowing rain.
Another innovation that has helped reduce air infiltration is installing hinges at the factory. Pre-installed hinges ensures that every hinge is straight and in exactly the right location so that door sections close together tightly.
---
How strong is a Wayne-Dalton garage door?
The design and infrastructure of Wayne-Dalton garage doors give them the durability you want and strength you need.
The overall strength and durability of a garage door are based on several factors, including structural design, reinforcement materials, thickness of the door, and gauge of steel. Many unique features help to add strength and durability to Wayne-Dalton doors.
Most Wayne-Dalton doors have a composite steel and foam construction that utilizes polyurethane foam. This insulation material is formed in place to chemically bond to each steel section of the door. This creates a composite structure that is stronger than typical board-insulated doors, is more resistant to daily abuse, plus it is a better insulator against heat and cold.
The unitized body construction gives it tremendous strength.
The integral foam-filled reinforcing struts add rigidity to the door sections for long life and smooth operation. They add extra strength without extra weight.
The vertical supports are hot-dipped galvanized steel to add rigidity and protect the door's appearance.
Heavy-gauge steel wraparound end caps finish door edges to better protect the formed-in-place polyurethane insulation from damage.
These factors combine to allow Wayne-Dalton to build garage doors that are stronger and more durable than any other available.
---
How much security do Wayne-Dalton garage door systems provide?
Wayne-Dalton knows that the first thing you worry about is the safety and security of your family. That's why our garage doors offer you all the latest advances in garage door technology.
Technical advances have not only affected our garage doors in terms of safety, but also in terms of security. Wayne-Dalton doors have many features that offer homeowners a real feeling of security. The key to this "security system" is the innovative QuantumTM opener.
The random access code on a QuantumTM opener changes each time the door is operated with the remote. So even if a would-be burglar uses an electronic code grabbing device to record the access code sent out by the remote, the code the code thief has will no longer be valid if and when he tries to use it.
QuantumTM openers also include a locking mechanism that engages when the door is in the fully closed position. Unlike other units, it does not rely solely on back force of the drive to lock the door. It can be compared to the way a dead-bolt locks your entry door, not relying on just the door knob lock itself.
For added security, the QuantumTM system automatically monitors itself for malfunctions in relays, electronics and safety functions prior to and during door operation. The system even alerts you to malfunctions.
For manually operated doors, Wayne-Dalton provides the finest and most durable locking mechanism to ensure your doors stay locked.
Visit www.garagedoorsafety.com to see all the innovative things Wayne-Dalton has done to make garage doors safer than ever before.
---
How do I measure for my Wayne-Dalton garage door?
Measuring the dimensions of your garage is the first step in choosing a garage door system.
The easier it is to install your garage door, the more likely it is that your door will be installed correctly for years of superior operation. Though it is not a requirement, measuring your garage door before you first speak to your distributor will save you valuable time.
You will need the following materials to measure your garage: 25-foot metal tape measure, note pad or clipboard, pens or pencils in different colors.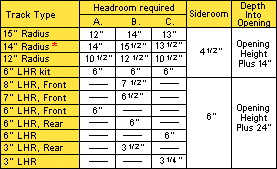 Note: Double car garage doors require an additional 1 1/2" headroom.
* Track radius subject to regional availability. Check with salesperson for details.
Note: Add 2 1/2" additional headroom and 34" additional depth into room if door is motor operated.
You can refer to the diagram below for help in sketching a diagram of your own garage. Find the following measurements to the closest fraction of an inch. Write the number down next to the corresponding area in the diagram of your garage.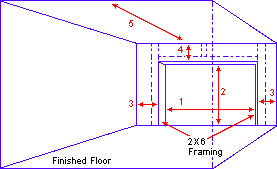 Exact finished opening width
Exact finished opening height
Sideroom - distance from edge of opening to any wall or other obstruction
Headroom - distance from top of finished opening to ceiling or underside of joists
Depth into room - distance from finished opening to back point where hardware or the automatic operator will extend.
---
How much general maintenance will my garage door require?
Performing a general maintenance check will greatly increase the life of your Wayne-Dalton garage door and save you time and money in the long run.
Here are some easy steps to follow to keep your garage door in good working order:
Clean your garage door. An annual cleaning will improve your door's looks and extend its life.
Annually inspect all exposed garage door hardware, including springs, cables, rollers, and pulleys, for signs of wear. Call your Wayne-Dalton dealer or a person qualified to make repairs if you suspect any problems. Source: U.S. Consumer Product Safety Commission
Check the hinges and rollers of your garage door seasonally to see if they seem to squeak or stick. If they do, you may need to use a spray silicone or lightweight household oil to lubricate them and keep them in working order. Check the garage door owner's manual for complete instructions and lubricant types acceptable for use on your door. Source: U.S. Consumer Product Safety Commission
Test the garage door opener's safety reversal feature once a month. Place an object, such as a 2 x 4 piece of wood, flat on the ground in the center of the garage door. Push the control button to close the door and watch to see if it reverses upon contact with the object. If the door does not reverse, have a qualified individual inspect your garage door system, and replace or repair the opener or other malfunctioning parts. Perform the 2 X 4 test again after fixing the problem to ensure that the reversal function now works. Source: U.S. Consumer Product Safety Commission
Does LiftMaster Support HomeLink?
Yes, LiftMaster supports HomeLink, if a car was manufactured before 2006 with HomeLink you will be required to purchase a repeater kit in order for their car to work with the LiftMaster 8550 opener. These kits are available from Hamburg Overhead Door for $75.00. If your car was purchased between 2006 and 2012, you can check to see if the car is compatible with the 8550 by clicking on this link http://www.homelink.com/program/process if not you will need a repeater kit. In 2013, HomeLink should be compatible with all new LiftMaster garage door openers and will not require a repeater kit. If your car has Car2U (which has three yellow LED lights and can be found in some Ford and GM products), which is not supported by HomeLink or LiftMaster, the customer will have to purchase a repeater from Car2U. LiftMaster does not stock or manufacture these repeater kits, Car2U is not associated with LiftMaster or HomeLink , and LiftMaster has no agreement to work with Car2U.
---