Garage Door Repair Services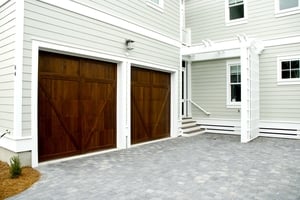 With the click of a button, garage doors get pulled up or down, giving access to homes and businesses multiple times a day. As durable as they are, over time different parts wear down and you may encounter a garage door that doesn't fully open or close. This could be the result of a faulty connection in the garage door opener, a broken torsion spring or a larger concern. When you have trouble with your garage door, the fastest and safest way to get it running again is to call a professional repair team.
When to Call A Professional
There are numerous reasons why your garage door might not be working smoothly. While you can find some quick tips and DIY repairs online, they usually only scratch the surface of basic problems you may encounter. Changing batteries, installing new openers and removing things that block your garage door are certainly achievable. However, our team covers deeper issues to replace broken pieces throughout your garage door's tracks, torsion springs, cables, and panels. Our team will save you the time it takes to troubleshoot and quickly isolate the problem, letting you know a reasonable quote for service and parts.
Emergency Garage Door Repair
Whether it's from an accident or completely unexpected, a broken garage door should be dealt with quickly. Partially open or malfunctioning garage doors can be serious security risks for your home or business. Our team understands how important it is to address these concerns and we do our best to offer same day repairs and respond to calls 24/7. We will quickly diagnose the issue and work on a solution for you.
Schedule Your Service Today
For any garage door repair service in Western New York, you can depend on Hamburg Overhead Door. Our team of highly trained technicians has experience serving over 90,000 customers, covering all kinds of homes and commercial buildings. If you need repairs done quickly and reliably, contact us today!