Cheektowaga, NY Garage Doors
As a homeowner, you understand how important it is to have energy efficient doors and windows in your home, especially during the hot summer months and cold winter months. However, it is easy to overlook how equally important it is to have an energy efficient garage door, especially if that garage is directly connected to your home. Most older garage doors are remarkably energy inefficient, allowing your garage to plummet in temperature in the winter and overheat in the summer. This is bad for your vehicle and for your energy bills if your home is connected to your garage. For the best in modern, energy efficient garage doors in Cheektowaga, NY, there is no company you can trust more than Hamburg Overhead Door.
Saving You Money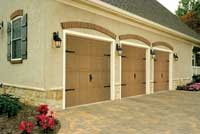 Even including the cost of replacing it, a new energy efficient garage door can potentially save you hundreds or thousands of dollars over the life of the door. For starters, extreme heat and cold can degrade your vehicle. With insulated doors, your vehicle will be stored at a more stable temperature, saving you money on repair costs.
Furthermore, if your garage is connected to your home, it becomes a source for air leakage if the doors aren't efficient. This leakage can potentially double your energy bills during the hottest and coldest months.
Finally, in addition to being energy efficient, new doors are also more secure, protecting your vehicle and other belongings against theft.
More Than Just a Door
A good garage door is more than just the wood or metal that makes up the door. It is also the lifting mechanism, the exterior design, security system, and built-in windows. At Hamburg Overhead Door, we provide complete garage door installation, offering the best in all accessories and assisting with design to help increase the curb appeal of your home.
Fast Service and a Free Estimate
Best of all, when you get garage door installation from Hamburg Overhead Door, you will always get prompt service by an experienced professional, with work often completed in a single day. If you are looking to replace the garage doors on your Cheektowaga home, contact Hamburg Overhead Door today for your free estimate.