Cheektowaga, NY Garage Door Maintenance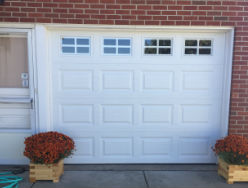 If you use your garage doors every day, that is a lot of wear and tear on all the components that make your doors work the way they should. Certain parts receive a lot of stress and you may not notice a problem until your garage doors fail. A good way to prevent sudden failure is with regular garage door maintenance offered by Hamburg Overhead Door in Cheektowaga, NY.
Reliable Garage Door Maintenance Services
Because there are many parts that work together to make your garage doors open and close, there's a good chance these parts are on the brink of failure and you won't even realize it. When even a tiny part breaks, there's a good chance your garage doors will stop working. Your best bet is to let the experienced technicians at Hamburg Overhead Door provide you with exceptional garage door maintenance services in Cheektowaga, NY. We will identify weak parts and replace them so that you can rest assured that your garage doors will work optimally.
Garage Door Repairs You Can Trust
Even with regular garage door maintenance, you may still experience a problem from time to time. The last thing you want to do is wait around for repairs to be made. Not only is a non-functioning garage door frustrating, but it also leaves your home vulnerable to thieves. You can rely on Hamburg Overhead Door to come to you promptly and provide you with reliable garage door repair services in Cheektowaga. We'll quickly fix the issue so you can go about your day without stress.
Garage Door Installation
In some situations the installation of new garage doors makes sense. If your garage doors are old or you want to update your home, you can rely on Hamburg Overhead Door to install your new garage doors. We have experience with all types of doors and can help you choose doors that will make your home stand out.
Contact Us for Your Garage Door Needs
No matter if you are interested in garage door maintenance or any other aspects of garage door service, look no further than Hamburg Overhead Door. Feel free to contact us for all your garage door needs.