Wood Garage Door Repair Buffalo, NY
Wood garage door repair in Buffalo is synonymous with Hamburg Overhead Door. It is, of course inevitable that your wood garage door will malfunction at some point, and we want you to know that we have the experience and skill necessary to bring it back into working order in an efficient and manageable time frame.
Wood panel garage doors are beautiful, and they are the garage door of choice for many homeowners in the Buffalo and Western New York area. However, they can be tricky to repair if they break down. Hamburg Overhead Door has many years of experience in both installing, and repairing wood garage doors.
When your wood garage door is in need of repair, we have the ability to arrive on time, and repair the issue quickly and efficiently, so you can continue using your garage as soon as possible. In addition to being prompt and fast, we also offer competitive pricing on both wood garage door repair, repair of your electric opener, or any other garage door parts that need repair at your Buffalo home.
Buffalo Wood Garage Door Repairs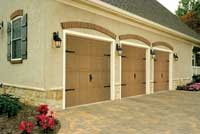 Hamburg Overhead Door has been in the garage door business in Buffalo and Western New York for a long time, and we have worked hard over that time to establish ourselves as a trusted name. We have learned a thing or two about satisfying our customers, and our team of wood garage door repair and installation specialists are second to none in Buffalo.
In addition to wood garage door repair in Buffalo, we also offer preventative garage door maintenance. Our skilled technicians can visit your home or business as many times per year as you would like, in order to perform regular maintenance and minor repairs, in order to ensure that your wood garage door continues to operate normally.
Contact Us for Wood Garage Door Repairs in Buffalo
If you are a Buffalo home or business owner in need of wood garage door repairs, look no further than Hamburg Overhead Door. Contact us today: 716.312.6710