Providing Quality Garage Door Repair to All of Buffalo, NY
Sometimes, the things we take for granted most in life break down, and it's only then do we fully appreciate their value in our everyday lives. Such is the case with our Garage Doors. Whether it's your residential or commercial garage door, it will, like all things, malfunction at some point in its lifetime. Luckily, Hamburg Overhead Door is around, with the skill and experience to perform expert garage door repair for your Buffalo home or business.
Garage Door Repair
The Garage Door Repair technicians at Hamburg Door are thoroughly trained and can handle any service issue with your door, whether it's your garage door or electric opener that is in need of repair, the skilled technicians at Hamburg Overhead Door has the ability to arrive on the scene promptly, and repair the issue within a convenient time frame. We have been in the overhead door industry in Buffalo for a long time, and we know how to service our customers. We work hard to ensure that our team for garage door repair in Buffalo is second to none.
Torsion springs are an essential part of your garage door. Of all the parts in your garage door and opener, the torsion springs are depended on the most. Torsion springs support the weight of your garage door and provide balance to ensure the garage door operates fluently.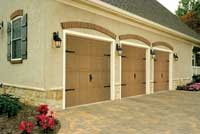 In addition to garage door repair in Buffalo, we are also proud to offer preventative maintenance. With our preventative maintenance services, we can help to reduce the number of times you actually need to call on Hamburg Overhead Door for garage door repair. We will come out to your business as many times per year as you would like, to perform service checks to your garage doors and their related equipment. This aids them in working better and more safely for your company.
Hamburg Overhead Door is a trusted garage door company with a good history and impressive record in Buffalo, so if you should ever require garage door repairs, just call us. We're always happy to hear from you, so call us any time.