Complementing Your Entry Door With Your Garage door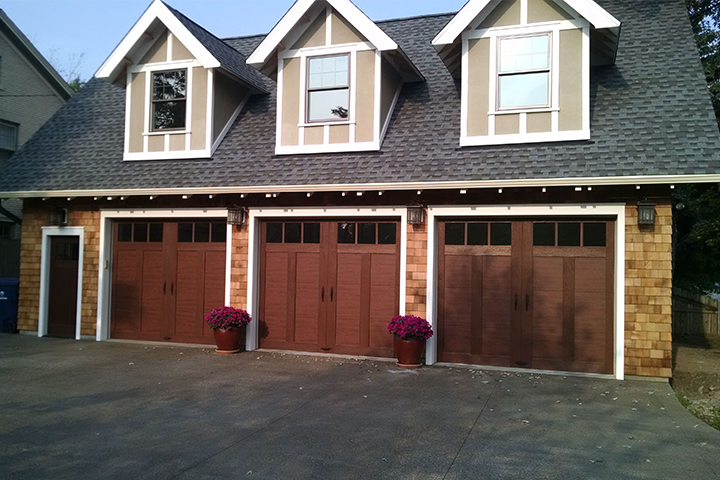 Color plays an important role when selecting the right garage door for your home, but what about styling it to your front entry door? To match or not to match? That is the question. When you throw materials, textures, and color into the mix, it can get a little complicated. No worries, though, we've got some tips to help you make a decision. Is your garage door front-facing? You may want to match it to the entry door then! The average home will have three colors to work with: trim, siding, and doors/shutters. What's the most popular to complement with your garage door? Your front door!
What to consider for entry door and garage door colors
Your garage door and front door are major factors in your home's curb appeal. With that in mind, you want both to complement not only your home but each other. So, what is there to consider when deciding on the right look for the entry door and garage door of your home?
Material
Entry doors are made from one of three materials: wood, steel, and fiberglass. The most common entry door is fiberglass, but each material has its own features that make them a great option for your home. Most garage door models are made of similar materials, so you can easily correlate the material and finish to go with your front door.
Architecture
The style of your home should not be overlooked. Whether you're installing a new garage door or entry door, or both, pay attention to the design of your home. If you have an upscale, modern home, steel doors may look great with its style. If you have an older home, a steel front door or garage door may look a little off. You know your home best, just keep in mind what will suit its design!
Lighting
Before deciding on a color for your exterior doors, check out swatches of colors and materials in different lighting. You may love a red until the sun casts down on it at noon the next day and it looks too red for your liking. Consider the time of day and get a good look at your options. Work with the sun to ensure the colors you pick are just right at any time of day.
Updating the exterior of your home is fun and when done right will increase its resale value. Customizing the way your home looks is one of the best parts of being a homeowner! With the right preparation, a correlating front door and garage door can really make a home look brand new. Ask questions, check out your options, and enjoy your home as you envision it. When you're ready to get started, we're here to help. We offer front door and garage door installation, so your home will always look just how you want it to; after all, over delivering is what Hamburg Overhead Door does best!