4 Ways LiftMaster's Smart Garage Door System Makes Life Easier
Home improvements can be a tough decision when you have things to consider like timelines, labor, and of course--a budget. When a product makes your day less stressful, that tough decision becomes a lot easier to make. LiftMaster's myQ smart home technology allows you to control your garage door, lighting and home security from anywhere. As a homeowner, convenience and security are often a top priority.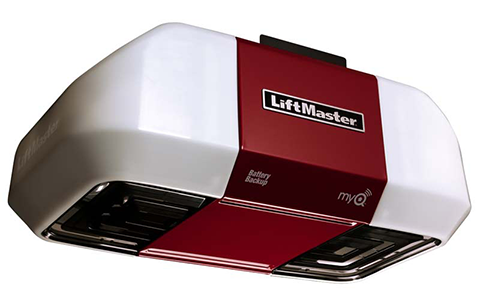 Created to make your garage smarter and day-to-day simpler, myQ technology is accessed from a smartphone app. This technology is integrated into LiftMaster's newer garage door opener models, such as the 8500W (pictured). Installed by an expert from Hamburg Overhead Door, implementing a smart garage door system into your home is seamless.
So, what exactly can a smart garage door do to make life easier? The myQ App gives homeowners total control over access to their home's garage door--even when no one is home. Here are four ways homeowners can enjoy the ease of a smart garage door:
Operate your garage door from any location. "Did I leave the garage door open?" Never wonder this question again! Using the myQ App, you can see if your garage door is open or closed from anywhere. Even if someone in your family leaves the garage door open, you can close it while you're at work or running errands with just a few taps on your smartphone.
Get alerts about garage door use straight to your phone. "Are the kids home from school yet?" myQ sends real-time alerts when your garage door is used. Each time it opens or closes, you'll get a notification. The app helps you keep track of when people are entering or leaving your home; this is a useful tool when family members are coming and going and you want to stay updated.
Set schedules for garage lights and door. "Is the garage light on?" Not only does your garage door opener sync to myQ technology, but your garage lights also can too. Using the app, you can schedule when your garage light turns on and off, in addition to scheduling a time for your garage door to open/close. If you're away on vacation, you can schedule your garage light to turn on for a period of time or access it from your smartphone yourself. Controlling the status of your garage can give you a sense of security while you're away!
Share myQ access with up to three people. "Can you close the garage door for me?" You don't have to be the only one in control! If it makes things easier, you can share myQ access with up to three people (without sharing your password). By sharing access with a family member or close friend, you can provide a new, secure way to enter your home for loved ones.
Adding convenience to your home can pay for itself! Upgrading to a new garage door adds value to your home, in fact, you recoup 98.3 percent of the cost of a new garage door in home resale value! With myQ technology installed into a new garage door, you're on your way to a huge selling point if you ever plan to sell your home; if not, you've got a pretty great garage system that will make your days (and evenings) much easier!
For questions about LiftMaster, myQ technology or your garage door system, give Hamburg Overhead Door a call today to get started!