Aluminum Garage Door Trim Installation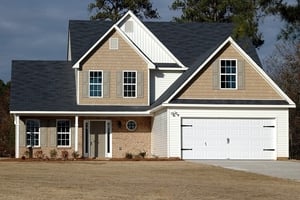 There are many perks to having a garage, including added security, storage space and a warmer car. However, there is also added upkeep, ranging from garage door maintenance to exterior finishes. If you have wooden trim surrounding your garage, you will eventually need to add another task to your list of maintenance. Layers of paint keep the wooden frames sealed from moisture and rotting, however, over time the paint can peel off, exposing your trim to the elements. Additionally, fading and peeling paint does not look appealing for your home so it needs to be quickly addressed.
Benefits of Aluminum Trim
Before you pull out the ladder and buy some paint and primer, you can install aluminum trim around your garage door. There is an upfront cost of materials and installation, but once that is complete, you will have virtually no maintenance for your trim. Instead of painting, aluminum trim only needs occasional cleaning with a damp cloth. Other reasons to install aluminum trim are:
Emergency Garage Door Repair
Whether it's from an accident or completely unexpected, a broken garage door should be dealt with quickly. Partially open or malfunctioning garage doors can be serious security risks for your home or business. Our team understands how important it is to address these concerns and we do our best to offer same day repairs and respond to calls 24/7. We will quickly diagnose the issue and work on a solution for you.
No Fading: Aluminum Trim does not rust or corrode, meaning it'll keep a consistent look
Boost Curb Appeal: With a clean look and lasting quality, aluminum trim boost your home's value
Customization: Aluminum trim comes in different colors, complementing your home's design
Schedule Your Installation Today
If you don't want to keep painting your wooden trim, switch over to aluminum! With the help of our professional team, you will receive beautiful aluminum trim that supports your garage and exterior design. Additionally, it will be installed carefully, by our experienced team at Hamburg Overhead Door. To schedule installation and receive a quote, please contact us today!