Wood Overhead Door Repair WNY
Repairing your wood overhead door can be a daunting task. It's not to be taken lightly, and it's not exactly easy. A wood panel overhead door needs to be handled with care, so as not to damage the woodwork. When you find yourself in need of repair for your wood overhead door, call Hamburg Overhead Door.
It's not difficult to understand why so many homeowners prefer the look of a wood overhead door for their WNY home. They are beautiful, rustic, and exude a certain amount of class. That is why so much care must be taken in their repair. Hamburg Overhead Door has been servicing garage doors in WNY for a long time. Over the years, we have developed a real reputation for ourselves in the region, and we think we've learned a thing or two about satisfying our customers.
WNY Wood Overhead Door Repair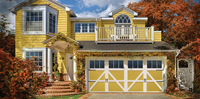 Of course, there is more to your wood overhead door than just the wood itself, we can also repair any electrical parts, openers, tracks or anything that needs repairing can and will be serviced by Hamburg Overhead Door. We are committed to being prompt, efficient and most of all, affordable. When it comes to wood overhead door repair in WNY, we want our name to be synonymous with care and ability. Our team of highly trained and skilled technicians will always get the job done in a friendly and professional manner.
We are also proud to be able to offer more than just wood overhead door repairs when your unit breaks down, we also offer an extensive and thorough preventative maintenance program. As many times a year as you need, Hamburg Overhead Door will come to your home or business to perform routine checks, repairs, and maintenance, in order to ensure that your wood overhead door does not break down in a big way.
If you are in need of wood overhead door repair in WNY, look no further than the professionals at Hamburg Overhead Door. Contact us today. 716.312.6710