WNY Garage & Overhead Door Repair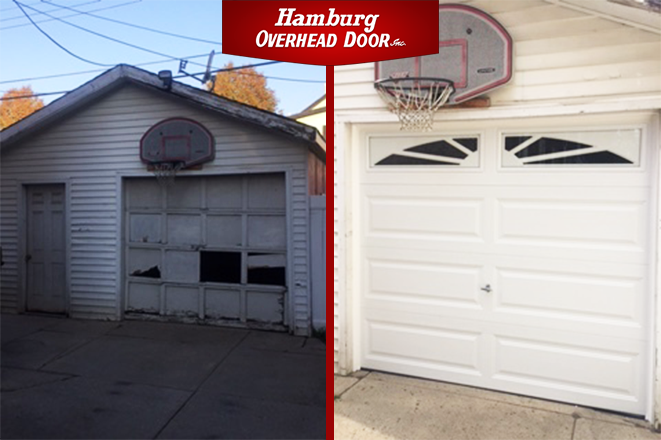 Because you use your garage doors daily, there's a good chance you'll need garage door repair at some point. The moving parts of your garage doors become worn over time and lead to failure. You may even notice that your garage doors won't open or close fully. Such a problem can leave your home vulnerable to outside threats such as breaking and entering and theft. Overhead door repair can also be urgent since failing garage doors are a safety hazard. Therefore, it's essential to seek a WNY overhead door repair specialist as soon as you notice a problem.
Common Reasons Overhead Door Repairs are Needed
Problems with your garage doors might happen unexpectedly. You can be confident that when you're experiencing any kind of trouble, Hamburg Overhead Door will make the necessary repairs to ensure your garage doors are fully functional. Problems we typically see include:
Failure to open due to broken springs
Remote that needs to be reprogrammed
Failure of the garage door during opening or closing due to a bad sprocket
Garage door failure due to a stripped gear
Doors that sit unevenly due to a broken cable.
Malfunctioning safety eye prevents the garage door from opening
No matter what type of problems you're experiencing, you can depend on Hamburg Overhead Door to come to you and provide you with superior overhead door repair in WNY.
Preventive Maintenance is Essential
If you're concerned about having sudden problems with your garage doors, then you should consider preventive maintenance. The advantage of this is that we can catch small problems before they turn into expensive repairs. Prevention is key to ensuring your garage doors continue to work as they should. We can regularly service your garage doors to make sure they are in good working order so you won't get stuck with any surprise breakdowns.
A WNY Garage Door Repair Service You Can Trust
When you call on Hamburg Overhead Door for your WNY garage door repair needs, you can rest assured you're getting the best in the business. We have the tools, experience, and knowledge to get the job done right. Give us a call to see how we can help you.