West Seneca, NY Garage Doors
Anyone who owns a home knows that a garage is more than just a storage place for a vehicle, especially if that garage is attached to the home. A garage also stores a variety of outdoor equipment, offers an additional entry point into the home, helps improve the energy efficiency of the home, and adds curb appeal and resale value to the home.
For the garage on your West Seneca, NY home to best offer all of these benefits, you need to ensure that your garage has a top-quality garage door. A modern garage door improves insulation, is incredibly secure, and when chosen properly, looks absolutely amazing. To get the best possible garage door for your West Seneca home, there is no better company than Hamburg Overhead Door.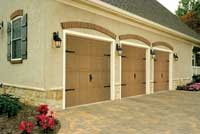 Choosing the Perfect Garage Door
At Hamburg Overhead Door, we understand how important it is to have a garage door that matches the style and design of your home. To help you pick the perfect garage door for you West Seneca home, we have an advanced design center run by professional garage door installers and designers. We will take a picture of your home, upload it to our system, and then work with you to design a custom door that perfectly accentuates the style of your home.
Efficient, Stylish Garage Doors
In addition to offering the best looking garage doors at Hamburg Overhead Door, we also offer the best utility in garage doors. Our doors are sturdy, weather resistant, energy efficient, and come with a wide variety of security and automation options.
Expert Installers for your West Seneca Garage Door
At Hamburg Overhead Door, we aren't just experts at designing garage doors, we are also experts at installing garage doors. Our professional installers have experience with all types of garages in all types of locations. They are fast, polite, and never make a mess.
Preventative Garage Door Maintenance
In addition to installing new doors, we also provide preventative maintenance that will help your current garage doors last decades. A little inexpensive maintenance today can prevent expensive repairs or replacement in the future.
Whether you want new garage doors for your West Seneca home or just want an inspection and maintenance, contact Hamburg Overhead Doors to get an appointment scheduled as soon as possible.