Tonawanda, NY Garage Door Maintenance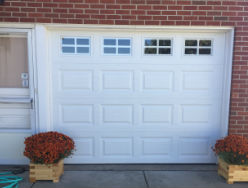 Not only do garage doors need to be functional, but they also can really make your home stand out. Doors that are difficult to operate, have failed, or are outdated, can make your home lose curb appeal. The best way to ensure your garage doors are working optimally is with regular maintenance.
Preventive Maintenance is Important
You likely use your garage doors every day. That's a lot of small parts working together on a regular basis. Over time, these small parts can wear out. You may not even notice there's a problem until your garage doors stop working. With preventive maintenance, you can rest assured that stress points and all other aspects of your doors will be examined. Any part that is showing signs of wear will be replaced ensuring your doors will always work.
Garage Door Repairs
Even with regular maintenance, there's always a chance that something could go wrong. You can depend on the experienced team at Hamburg Overhead Door to give you prompt service and fix any issues you are having with your garage doors. We've been in the business for a long time and there's not a problem we haven't encountered. We'll ensure your garage doors are working properly. Non-functioning garage doors are frustrating and they also compromise the security of your home. Let Hamburg Overhead Door come to the rescue so you don't have to worry.
Garage Door Installation
Maybe your garage doors are old and not worth the hassle of repairing. Or perhaps you just want to update the look of your home with new doors. Hamburg Overhead Door can help with that. We have experience with the installation of many styles of garage doors and can help you choose which doors will look best with your home.
Contact Us for Prompt Service
Hamburg Overhead Door provides garage door maintenance to customers in Tonawanda, NY that is second to none. Our experienced team of technicians can handle any issue you are having and get your garage doors up and running again. Contact us today to see how we can provide you with exceptional garage door maintenance.