Tonawanda, NY Garage Doors
The Garage Door Specialists in Tonawanda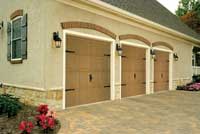 At Hamburg Overhead Door Inc, we are a leading brand in Garage Doors installation and maintenance in Tonawanda, NY. With an experience that spans back for decades, we've always provided quality services tailored to leave a lasting impression.
Our A+ rated professionals possess excellent craftsmanship and never stop until you're satisfied with our craftsmanship. More importantly, our garage doors are designed to meet your curb's appeal needs while meeting their functionality.
If you need custom garage doors for your building all you have to do is take a photo of your home and upload it to our design center, and rest assured you will get value for your money. We believe the only way to do a garage door installation job, is the right way.
Maintaining Garage Doors
You don't have to compromise your business's safety and returns with faulty or inoperable garage doors. At Hamburg Overhead Door Inc, we've taken the craft of keeping the crucial part of your building in great shape and go the extra mile to ensure that we provide preventive maintenance services tailored to last.
Ranging from garage to loading docks doors, we are your true Tonawanda, NY, partner who will respond to your call without hesitating. We understand the peace of mind and ease of movement in and out of your warehouses and go the extra mile to just facilitate that.
Even better, we offer free estimates and our professional craftsmen will never quote any unnecessary repairs.
At Hamburg Overhead Door Inc, we're second to none.
Garage Door Repair Company with a Difference
Are you looking for a garage door repair company in Tonawanda, NY? At Hamburg Overhead Door Inc, we don't cut corners, we fix them. With all the resources at our disposal, we always expedite the repair process to avoid inconveniencing you.
Our estimates are always fair and we a renowned company that offers the most competitive rates in West New York. More importantly, we offer emergency repair services for people who want fast turnarounds. When you hire us, rest assured we will handle the task at hand with the accuracy and precision it deserves.
For more information on our garage door services, call us on 716-312-6710.