Orchard Park, NY Garage Door Maintenance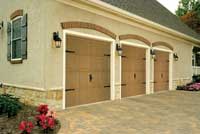 When it comes to your garage doors, you probably don't give them much thought until something goes wrong. If your doors have failed, not only is that frustrating, but your home's security is compromised. Before you experience failure, you should consider regular garage door maintenance provided by Hamburg Overhead Door in Orchard Park, NY.
Preventive Maintenance for Peace of Mind
You use your garage doors every day. You probably don't think about all the components of your doors that must work together to open and close your garage doors. Many parts become stressed and this leads to failure. You likely won't notice any issues until your garage doors until they stop working which will leave you in a bind. You can avoid this frustrating situation with regular garage door maintenance. Hamburg Overhead Door can inspect your garage doors at scheduled intervals to ensure all parts are working properly. We'll check stress points and replace any worn parts so that your garage doors are operating optimally. With our preventive maintenance service you can also be sure your doors will operate with the changing weather so there are no issues in extreme cold temperatures or in the hot summer months.
Garage Door Repairs
Regular garage door maintenance reduces the chances of unexpected problems. However, even with regular maintenance there is always a chance that something could go wrong. When you experience garage door failure you need it fixed fast. You can rely on the technicians at Hamburg Overhead Door to give you prompt and reliable repair service. We are experienced with all types of garage doors and there isn't a problem we haven't encountered. You can depend on us to fix the issue so you can get on with your day without worrying about your garage doors.
Contact Us for Exceptional Service
Hamburg Overhead Door has been in the garage door business a long time. Our team of technicians are experienced and have worked with many types and styles of garage doors. No matter what your issue is, we have a solution. Contact us today to see how our garage door maintenance service in Orchard Park, NY can help you.