Garage Door Installation in Orchard Park, NY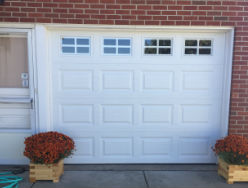 Quality garage doors are designed to last, but after 10 to 15 years of faithful service, a replacement becomes inevitable. When it's time for a new garage door in Orchard Park, NY, look no further than Hamburg Overhead Door for reliable, professional garage door installation services.
Why Trust Hamburg Overhead Door with Your Garage Door Installation?
We're more than just a garage door installation service; we're a committed partner in enhancing the safety and aesthetic appeal of your home. Here's why residents of Orchard Park, NY choose us:
Safety is Our Priority: Garage doors are heavy, and their springs store a significant amount of energy. Mishandling can result in accidents. Our expertise, experience, and equipment ensure safe and efficient installations.
Fast and Reliable: Efficiency comes with expertise and experience. We have a solid track record in the industry, guaranteeing speedy, reliable installations with minimal disruption to your daily routine.
Wealth of Knowledge: We're more than installers – we're advisors too. If you're unsure about the best replacement for your garage door, tap into our extensive knowledge about different garage doors. We'll help you explore options you might not have considered.
Start Your Garage Door Installation Journey Today
Got questions about garage door installation or other garage door-related matters? Don't hesitate to contact us. We're ready and eager to answer your inquiries and guide you through the process of selecting and installing your new garage door.