Lockport, NY Garage Door Installation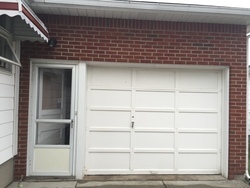 Garage doors are possibly one of the most crucial entryways to most homes and businesses in Lockport, NY. Besides ensuring adequate security, garage doors are convenient and improve the value and appearance of your home or business. Proper door installation and maintenance are essential in every home. However, garage door setup is among the most challenging tasks. But our Hamburg Overhead Door professionals have done even the most challenging garage door installations throughout Lockport, NY.
When to Install a Garage Door
When setting up a new garage, it will look incomplete without a garage door. You need professionals to install a garage door for smooth entry and security. In addition to door installation in a new home, you need to install a new garage door if your current Lockport, NY garage door is beyond repair or the cost of repair is too high.
Why Hire Garage Door Installation Professionals in Lockport
Since the doors are large, heavy, difficult to manipulate, and use electricity to install, they can cause injury to installers and homeowners. To avoid these safety issues, you are advised to call us for help. You need the right door parts for a quality and durable garage door. However, it's difficult to tell which parts are the best, thus needing a professional. Our Hamburg Overhead Door professionals in Lockport, NY, will offer you residential and commercial door installation services.
Residential Garage Door Fitting
We understand the value of the garage door in your Lockport, NY home. So, we allocate reliable technicians for garage door installation in your home. The quality parts and attention to detail by our Hamburg Overhead Door technicians ensure that your Lockport, NY home value improves for resale, enhances the appearance of your home, and ensures improved safety and security.
Commercial Garage Door Set-up
Different door and door parts are suitable for industrial, commercial, loading dock, and agricultural buildings. At Hamburg Overhead Door in Lockport, NY, we understand different buildings' door and parts requirements. We use types of door and door parts that ensure convenience and reduce the cost of repair and maintenance.
Lockport Garage Door Installations
If you have an intention to replace or install a new door, call our Hamburg Overhead Door team and schedule a garage door installation. The team will also help you find out more about our services.