Garage Door Installation in Lockport, NY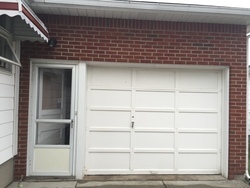 Garage doors play a crucial role in security, convenience, and aesthetics for homes and businesses in Lockport, NY. When it comes to installing these significant fixtures, trust Hamburg Overhead Door's expert team to handle even the most challenging installations.
Benefits of Choosing Hamburg Overhead Door
Timely installations: Whether you're building a new garage or replacing a door beyond repair, we ensure prompt and efficient installation, providing you with smooth, secure access to your garage.
Professional expertise: Garage doors are large, heavy, and can be hazardous if not correctly installed. Our professional technicians handle the installation process with the utmost care and precision, ensuring your safety.
Quality guidance: With our vast experience, we can advise on the best parts and components for a durable, high-quality garage door.
We cater to both residential and commercial installations, understanding the unique requirements of different types of properties. Our dedicated technicians ensure high-quality installations that not only enhance your property's value and aesthetics but also improve safety and security.
Different buildings require different types of doors and parts. With our expertise, we choose the most suitable doors and components that maximize convenience and minimize repair and maintenance costs.
Start Your Garage Door Installation Journey in Lockport, NY
If you're considering a new garage door installation or a replacement, our Hamburg Overhead Door team is ready to assist you. Learn more about our services and how we can serve your needs by contacting us today.