Lancaster, NY Garage Door Maintenance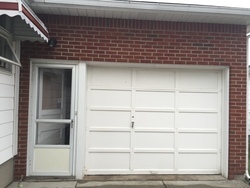 Garage doors are something you use all the time and don't really give much thought to maintenance. However, when something goes wrong, then it's a big hassle and you just want to get the issue resolved as quickly as possible. Not only is garage door failure frustrating, but it can leave your home vulnerable to break-ins. One way to avoid sudden garage door failure is to have them inspected regularly.
Regular Garage Door Maintenance
Your garage doors are made up of many parts that must work together to make your doors open and close. This is an action that happens several times a day. You may not realize the fact that some parts become worn with heavy use. When those parts fail, then you probably will notice a problem when you can't open or close your garage doors. One way to prevent this scenario is with regular garage door maintenance. You can rely on the experienced technicians at Hamburg Overhead Door to come out and check your garage doors at regularly scheduled intervals. We'll check stress points and replace any parts that show signs of wear. This ensures you won't be stuck with an unexpected problem.
Garage Door Installation
If your garage doors are old or you just want to update the look of your home, Hamburg Overhead Door in Lancaster, NY can help with that. Our technicians have worked with all types of garage doors and can help you decide which doors will look best with your home. If you're looking for reliable garage door installation, then look no further than Hamburg Overhead Door.
Garage Door Repair
Even with regular maintenance, there is always the chance that you will experience a problem with your garage doors. It's a lot less likely, but still possible. Our technicians will provide you with prompt service you can count on. We'll fix the issue so you can get on with your day.
Contact Us for Your Garage Door Needs
Whether you're interested in our garage door maintenance services in Lancaster, NY or any other aspects of garage door services, contact us today to see how we can assist you.