Grand Island, NY Garage Door Repair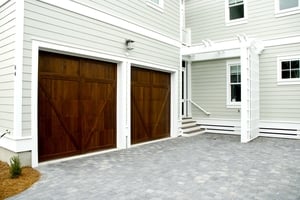 A garage door does more than add aesthetic value to your Grand Island, NY home. Your garage door makes life easy and convenient. Because a garage door has a lot of moving parts, it may break down at some point. Some people attempt to fix garage doors themselves. At Hamburg Overhead Door, we understand the risk involved. So, we strongly advise against trying to DIY your garage door as you could not only get hurt in the process but also highly compromise your security.
When Should You Give Hamburg Overhead Door a Call?
A damaged garage door can pose the following risks:
· Car damage
A broken door can shut suddenly and damage your car.
· Personal injury
If the garage door cable is broken, the door can shut suddenly. Because a garage door is weighty, it can result in serious injury, which is why we advise you not to attempt repairing the garage door yourself.
· Garage door replacement
A stitch in time will save you nine. If you do not repair your garage door, you risk more damage, resulting in irreparable dysfunction requiring a new garage door.
· Cement chipping
The heavy garage door shutting suddenly can cause the cement flooring to break, costing you more money.
· Poor insulation
Garage doors can make electric bills a nightmare. If you have a broken garage door, you lose hot or cool air much faster, meaning you pay more bills.
· Access to intruders
If your garage door does not close properly, an intruder can easily find their way into your home. You do not want that to happen.
Give us a ring if you notice the following:
Your garage door has a broken spring break
Broken garage door cables
Worn out rollers
Hinges wear out
Garage door opener wears out
Contact Us for Affordable & Efficient Garage Door Repairs in Grand Island
You can trust Hamburg Overhead Door to take care of your garage door repairs. Our employees have fixed hundreds if not thousands of garage doors in their careers, making them the most experienced technicians in town. Don't worry about the costs of repairs because we have the best prices in Grand Island, NY.
Hamburg Overhead door guarantees you swift and hassle-free garage door repairs at fair prices.