Grand Island, NY Garage Doors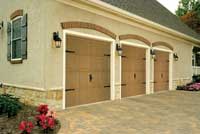 As the proverbial saying goes, east or west home is best. Some say that home is where the heart is, but we at Hamburg Overhead door believe that home is not complete without the perfect garage door. The design of your garage door speaks volumes about your style and taste as a homeowner. A poorly maintained door can make your Grand Island home look shoddy. Like all other doors, the garage door should blend in with the house's design and provide and security. You can get the best quality garage door for your home at the fairest price only at Hamburg Overhead Door.
The Perfect Fit; a Garage Door Made For Your Grand Island Home
Our company offers the best quality garage doors for your home. We work with you to select the door that best matches your taste. Our garage doors have been known to add a je ne sais quoi feel to residential houses. Our employees have years of experience and are ready to help you pick a door and give you a free estimate of installation. We offer all this at the fairest prices in Grand Island, NY. We pride ourselves on being an intricate part of the Grand Island community by incorporating function and aesthetic value into as many homes as possible.
If you have little ones, you will appreciate a garage door all the more. A garage door protects your car and other valuable hardware from damage from games children play. Nobody wants to find a dent on their windscreen from a stray basketball or a bad scrape from a bicycle accident.
Enjoy Bespoke Garage Doors
Take advantage of our wide variety of garage doors and replace your old or damaged one. Your garage door should add appeal to your home. We offer computer simulation to let you visualize how any of our garage doors will look in your home. We also fit the doors perfectly to provide excellent insulation. So what are you waiting for? Get your home the best garage door and save some cash while at it. Contact Hamburg Overhead Door for garage door services, and you can thank us later.