Getzville, NY Garage Doors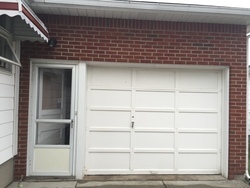 Your garage is an integral component of your house. It ensures that your car and your other belongings in the garage are secure. In addition to posing a safety concern on your property, a faulty garage door can also be a safety hazard for your family. Therefore, if your garage door is broken, you need to ensure that it is fixed as soon as possible. If you need the services of a professional garage door expert in Getzville, NY, here are some of the reasons why you should consider Hamburg Overhead Door.
An Experienced Getzville, NY Garage Door Team
When it comes to installing, repairing, or maintaining your garage door, you cannot afford to trust amateurs. You need to work with people whose expertise has been subjected to the test of time. This is one of the reasons why Hamburg Overhead Door is one of the best in the industry. Indeed, we have over 50 years of experience in this business, and our experience is above board. Therefore, whatever issues your garage door may be having, you can count on our experience to fix it decisively.
Safety First for Garage Doors in Getzville
Safety is a serious concern when it comes to fixing, maintaining, and installing garage doors. This is why you should never try to do it on your own. At Hamburg Overhead Door, we have the necessary skills and equipment to get the job done safely without causing any damages to your property or injuries to your family and pets.
Save Time and Money With Garage Door Services from Hamburg Overhead Door in Getzville, NY
Installing, repairing, or maintain a garage door can be time-consuming. By deciding to do the job on your own, you could waste a lot of time and money and eventually fail to get the job done properly. On the other hand, hiring us will ensure that the job is done efficiently. It will also ensure that you have the time you need to attend to more important matters.Contact Getzville's first choice in garage doors - Hamburg Overhead Door.
Get in touch with Hamburg Overhead Door today for more information about our company and the services that we offer in the Getzville area.