Getzville, NY Garage Door Repair Services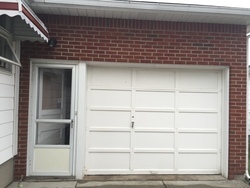 Your garage door is the forefront of your home and the first thing that people see when they stop in front of the house. Keeping your garage door and overhead door well maintained and in top shape is extremely important as it determines the value on the appearance of your home. Curb appeal is a huge factor when it comes to being a residential or commercial property owner. Which is why it is important to have a reliable service on hand like Getzville, NY Garage door Repair services, to sort out all your garage door requirements.
Residential Garage Door Repair Services
There are always fresher designs and other elements that are being incorporated into modern garage doors as time goes by. It's important to keep up with the times, not only in terms of appearance, but also in terms of technology. People require newer advancements so that they can ensure the safety and security of their family. The new security features mixed in with new-age technology allows you to have peace of mind when entering and exiting your home. There will be a lowered risk of being affected by crime and other dangerous elements in Getzville, NY.
Maintenance and Inspections
A broken garage door is not difficult to spot for a professional, however, a layperson might have difficulty in identifying what exactly is the issue at hand. We offer routine checks and inspections to ensure that the hardware and software of your garage door is functioning at optimal capacity and that there is no risk of the garage door breaking down in the future. Getting experts to deal with the situation at hand can not only save you a lot of money in the long run, but it also prevents you and your family from getting injured during the process.
Your Garage Door Repair Service Provider in Getzville
Call us today find out more information on our routine inspections and quotes in Getzville. Improve the appearance of your property and prevent further damage to your garage door. Our trained technicians are standing by and ready to help!