Getzville, NY Garage Door Installation
Is Your Garage Door Showing Signs of Age?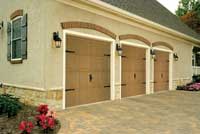 Generally speaking, a garage door can be expected to last for about 10 to 15 years. As a result, if Getzville, NY residents notice warning signs, they should give some serious thought to getting a replacement. In part, this is because old, worn-out garage doors are much easier to bypass, meaning that they can't provide the security that they are supposed to. However, there is also a chance that an aging garage door will break down before it is replaced, which can be dangerous for those who are around it at the time. Theoretically, interested individuals can try to handle their garage door installation on their own. In practice, it is best to entrust such tasks to professionals such as Hamburg Overhead Door.
Why Should You Choose Us for Your Garage Door Installation?
Consider these reasons to trust us with garage door installation as well as other garage door-related services:
Effective and Efficient Garage Door Installation Services
First and foremost, Getzville, NY residents can count on the professionals to get their garage door installation done in an effective and efficient manner. Both considerations are extremely important. After all, a good installation means that interested individuals can count on their garage door to perform to their expectations while remaining useful for as long as possible. As such, effectiveness and efficiency are critical for ensuring that Getzville, NY residents can get their money's worth, particularly since a bad job can force them to spend more time and money on the matter.
Proven Record of Success in Garage Doors in WNY
Naturally, some professionals are more reliable than others. Hamburg Overhead Door has a proven record of success when it comes to pleasing our clients. Thanks to this, interested individuals can expect the same when it comes to their garage door needs.
A Garage Door Installation Done Accurately
Errors can always happen when working with something. However, expertise, experience, and equipment can reduce the chances of those errors happening. When errors can result in serious injuries to those caught within the vicinity, it is smart and sensible to entrust such tasks to reputable professionals.
Contact Us For Premiere Garage Door Installation Services in Getzville
Have questions about garage door installation? Please contact us for further information, our team is standing by and ready to assist you!