Fiberglass Overhead Door WNY
For years, home and business owners all over WNY have trusted Hamburg Overhead Door with the sale, installation, and maintenance of their overhead garage doors. Our commitment to superior customer service and reliability goes unmatched still, and we are very proud of that. We have always striven to provide an exceptional product, and now, we offer fiberglass overhead doors, for more durability, and less maintenance cost.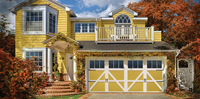 The true advantage of the fiberglass overhead door is in its durability. These doors are tough, but a more resilient door doesn't have to mean an ugly one. The fiberglass on our overhead doors is layered over a tough steel door. Therefore, you are able to enjoy damage resistance, without sacrificing any of the beauty that products from Hamburg Overhead Door have come to be known by.
WNY Fiberglass Overhead Doors
Over the years, we have worked hard to cultivate a reputation for quality work, and trust from all of our clients, large and small. Not only do we provide sales of fiberglass overhead doors in WNY, but installation, and, just as important, maintenance. Hamburg Overhead Door's maintenance program offers a customized schedule of visits throughout the year from our experienced technicians to perform routine service checks, ensuring a long life of functionality from your WNY fiberglass overhead door.
For those who are in the market, we urge you to contact us today. We'll have an estimate for you in no time. If you're looking for a beautiful and durable fiberglass overhead door for your WNY home or business, contact Hamburg Overhead Door, today. 716.312.6710