East Amherst, NY Garage Door Company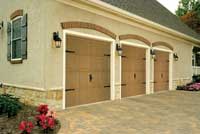 Every home deserves high-quality garage doors, and that's where Hamburg Overhead Door comes in. As the leading East Amherst, NY garage door company, Hamburg Overhead Door has all the latest garage door designs and technology to ensure the best possible experience with your residential or commercial door.
Residential and Commercial Garage Door Experts
We've been serving East Amherst and all over Western New York for over 20 years, and our passion for excellent service does not go unnoticed. We pride ourselves on delivering the highest standard of garage door services, from installation to repairs, preventative maintenance to trim upgrades, and much more.
Whether you're experiencing issues with your garage door or you just want to explore new styles, our dedicated team of garage door specialists can help.
Affordable Garage Door Company Services in East Amherst
You don't need to break the bank to make your garage door goals a reality. With Hamburg Overhead Door, you can look forward to customized garage door solutions that suit your property and your price point.
Garage Door Installation
If you're building your dream home from the ground up or just wanting a brand new garage door for your current home, we've got an amazing selection to choose from. Our friendly garage door experts will walk you through the process and there's even an online design tool to help you make the right call on boosting curb appeal.
Garage Door Repairs
The longer you use your garage door, the more likely it is to eventually need repairs, especially if your door is an older model. Broken springs, bent tracks, damaged panels, and malfunctioning remotes/sensors are just a few of the garage door repairs we take care of quickly and safely.
Garage Door Maintenance
Preventative maintenance can go a long way in protecting your garage door against damage and prolonging its lifespan. Yearly service checks can mean the difference between catching issues early and winding up stuck with a broken garage door. With the right garage door maintenance team by your side, you can enjoy efficient garage entry, exit, and storage at all times.
Contact Your East Amherst, NY Garage Door Company
Ready to improve your home value and security with an upgraded garage door? Find out more - contact Hamburg Overhead Door today.