Depew, NY Overhead Doors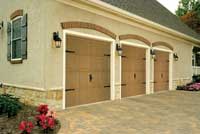 With over 50 years of experience and close to 100,000 customers, Hamburg Overhead Door is a leading overhead garage door maintenance provider throughout Western New York. We combine quality, dependable products with friendly, reliable service to consistently deliver confidence and satisfaction from residential and commercial overhead garage doors and access accessories. Since we care about your safety, we ensure that our professionally trained technicians install all our overhead doors and commercial doors.
Overhead Door Installation Services
To protect your residence and your vehicle, you need a robust, well-designed, and installed overhead garage door. Depew, NY Overhead doors ensure that you will only get the highest quality and most secure garage doors available. We pride ourselves in efficiently installing high-quality doors and accessories for your overhead garage door needs. You can get a reliable garage door made from a variety of materials ranging from:
Vinyl
Sturdy Coated Wood Grain
Corrosion Resistant Aluminium
Designer Fiberglass
Galvanized steel
And you can always add an accessory like an electronic lift to increase the doors' security value.
Overhead Door Repairs
We are a part of the community, and we make a concerted effort to support the neighborhood. As such, it's our promise to you that we will work together to ensure you find the garage door that fits your fancy is also the door that fits your budget. We offer free installation estimates. We are proud to provide the best customer care along with the highest quality overhead garage doors.
Preventative Overhead Door Maintenance
Your garage door makes a statement; it provides curb appeal and offers more than just convenience and home security. It also raises your Depew, NY house value. At Hamburg Overhead Door, we understand that very well. Consequently, we offer hundreds of styles of doors, including but not limited to:
Carriage style doors,
Traditional garage doors
Windowed doors, and
Using computer simulations, our professional staff can help you pick the ideal garage door style and visualize what the door will look like in your home. We have established practices and knowledge, which allows our team to keep your garage door looking and functioning at its best.
When you start looking to have your overhead garage door or commercial door installed, give us a call.
To find out more information on how Depew, NY Overhead Doors can solve your overhead door needs, contact us at 716-312-6710.