Clarence, NY Overhead Doors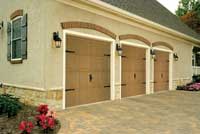 Your home's garage door is a critical fixture in your property. It provides enhanced security and the convenience of accessing your garage with a push of a button. Besides, investing in a new overhead door adds a visual appeal to the property. That's why you need to always partner with professional technicians to fix, repair, and replace your faulty overhead door.
Unmatched Clarence Overhead Door Installation
At Hamburg Overhead Door, we are professional Clarence, NY, overhead doors specialists with experience in garage door projects. We work with a crew of professional technicians who can handle any scale of the project, whether it is a fresh installation or you simply need your old overhead door replaced.
As leading and expert overhead door pros in Clarence, NY, and its surroundings, our technicians strive to make our installation, repair, and maintenance solutions as affordable as possible. That's why we will salvage any useful and functional parts of your old door and incorporate them in the new installation to ensure you maximize your savings.
Reduce Your Monthly Utility Bills with Our Energy-Efficient Overhead Doors in Clarence, NY
The overhead door usually has a unique and different construction and design from the rest of the house. Unfortunately, garage doors can be the reason behind your sky-rocketing energy bills due to the significant air leakages and wide gaps. That's because the garage is often adjacent or closely located to a high-traffic area, such as hallways.
In winter, the cold air entering your garage can easily "steal" warm air from the rest of the house. Conversely, it takes more power to cool down the air during the hot summer months. That causes your home's HVAC system to run harder to meet the energy requirements in the home. Take advantage of our energy-efficient Clarence, NY, overhead doors and watch your utility bills plummet significantly. We use double-insulated doors to ensure your heater works a little less hard, thus extending its functional lifespan.
Contact Us for Clarence Overhead Door Services Today
Are you looking for professional technicians to install or replace your overhead doors in Clarence, NY? Don't hesitate to call us any time at 716-312-6710 or fill out our contact form at Hamburg Overhead Door today!