Getzville, NY Garage Door Openers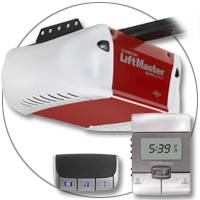 Here at Hamburg Overhead Door, we have built a strong reputation for solid customer service, and quality work for over 40 years. We provide are able to provide our customers with overhead door products that are second to none, and that goes for everything we do. With that being said, it should come as no surprise that we offer only the finest garage door openers in Getzville, NY.
We give our customers, top of line products, that not only work fast and smoothly but are efficient at all times. We take great pride in offering only top-of-the-line garage door openers; so that we know that you will get maximum performance and satisfaction. With brands such as LiftMaster, and Genie, it's difficult to go wrong.

Garage Door Openers Getzville, NY

At Hamburg Overhead Garage Doors, we make sure to create the most reliable service throughout their lifetime, but if anything ever does go wrong, you can rest assured in the knowledge that Hamburg Overhead Door will be able to fix it with little or no problem. We even offer routine garage door maintenance packages, where we'll send one of our experienced technicians out to your Buffalo home or business as many times per year as you'd like, to perform routine checks and repairs to ensure the long life of your garage door opener.
We use quality garage door openers for ease and convenience. Our garage door openers come with remotes, keypad entry, gate operators, and other accessories. Of course, we offer both residential, and commercial garage door openers, so whether you're a home or business owner in Getzville, NY we've got you covered.

Contact Us For Garage Door Opener Service in Getzville, NY

If you're in the market for either a residential or commercial garage door opener in Getzville, NY don't hesitate to contact us today.
Call 716.312.6710, today.