Upgrading Your Commercial Door in 2019
Giving your business a new look for the new year is something we can get behind! Whether you run a small business with a few employees or are the decision-maker for a large organization--there are probably commercial doors in your building that need some updating. Safety is a huge priority in any workplace, which is why properly functioning commercial doors are a necessity for your building. The good news? Hamburg Overhead Door is the largest overhead door company in Western New York and we offer the best of the best in commercial door models.
So, how can you upgrade your commercial door(s) in 2019? By getting to know the industry-leading brands we offer. Check out a featured product by each brand to get a closer look at the options you have available to enhance your business operations:
Haas Door Commercial Aluminum Series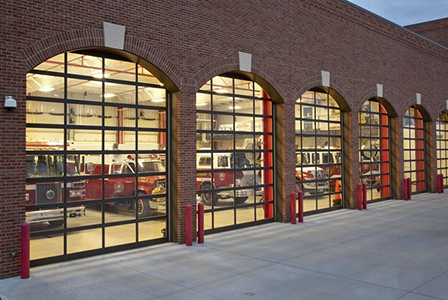 While beautiful to look at, Haas Commercial Aluminum doors are strong and durable. This model consists of aluminum rails and stiles combined to offer a strongly profiled structure with aluminum panels and a variety of glazing choices.
Haas Commercial Aluminum doors are ideal for quick lube facilities, car dealerships, restaurants, and other buildings where appearance and performance are most important.
Features include:
Rust and corrosion free
Commercial-grade aluminum
CA220 Heavy-duty frame
CA110 Narrow line frame
10 painted finish options
3 anodized color options
Custom-matched color and powder coating available
Clopay Commercial Steel Sectional Doors: Energy Series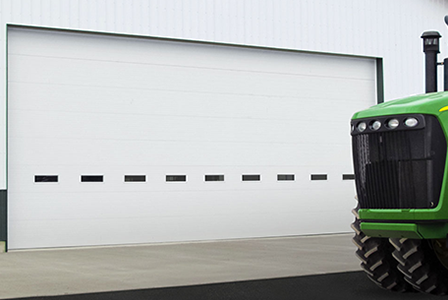 Clopay, or "America's Favorite Doors", has a Commercial Steel Sectional Door in its energy series that offers supreme energy efficiency. For business owners in Western New York, this is a big plus! The high-quality polystyrene insulated steel provides extreme thermal insulation, resulting in a more comfortable workplace by preventing unwanted heat flow. This model comes in many colors and design options, giving you the opportunity to customize the perfect durable, energy efficient overhead door for your building.
Clopay's polystyrene doors are ideal for municipal buildings, warehouses or shipping dock applications but can be installed for many uses.
Features include:
20 gauge exterior steel skin
Three-layer construction with steel and insulation for increased durability
3-stage paint process delivers a virtually maintenance-free finish
Galvanized steel end stiles
Variety of track configurations to meet building specifications
Color Blast® offers more than 1,500 Sherwin-Williams® color options
Cornell Rolling Service Doors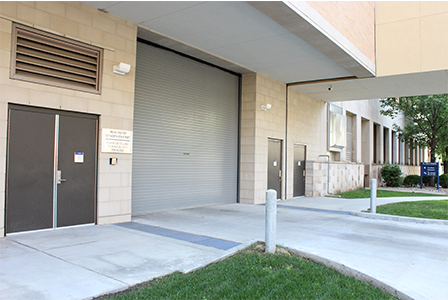 The service door of your building provides security and protection from the elements while acting as a convenient entrance to your operations. Cornell's Rolling Service Doors are made from galvanized steel, stainless steel or aluminum and roll up to store in a coil above the space. Not only are these convenient, but they're also compact and sturdy! When it comes to rolling service doors, Cornell is an industry leader. Their service doors can be customized to fit any space or specifications.
Cornell's Rolling Service Doors are great for many applications but are often used for parking ramps, healthcare, and retail industries.
Features include:
AtmoShield™ Powder Coating Textured powder coat finish that combats the environments harsh wear and tears
Constructed to withstand daily use and warrantied up to 50,000 cycles
Hood and Operator Covers Metal cover to protect the coil or operator from exterior weather, debris or to meet OSHA or UL 325 safety requirements
SpectraShield™ Powder Coating Polyester finish in more than 180 colors for durability, aesthetics, superior finish life and cost-effectiveness
ScreenGard Achieve visibility and ventilation while maintaining security and insect control
Perforated 20 gauge galvanized steel slat provides approximately 22% open space
Wayne Dalton Exterior High-Speed Fabric Door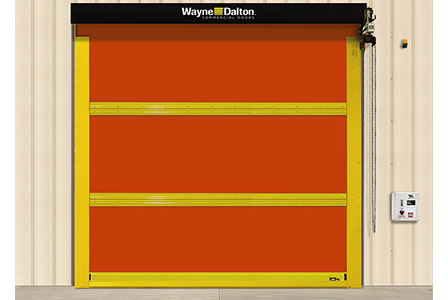 For the business owner who wants it all, Wayne Dalton's Exterior High-Speed Fabric Doors are designed for exterior applications that experience extreme weather. With damaging wind storms and record low temperatures in Western New York, this model is a wonderfully sturdy option. The Exterior High-Speed Fabric door has an articulating roller wind strut that reduces noise and allows the door to operate under high wind load. Due to the model's strutted design, it allows for quick section replacement (fast operation). When you've got a lot to do and not a lot of time to do it, Wayne Dalton's high-speed commercial doors are an excellent model choice.
Built with exterior applications in mind, this model is ideal for manufacturing, warehouse/distribution, mining, parking garages, and auto/transit uses.
Features include:
Springless design requires minimal interruption for maintenance
Direct-mounted gear drive minimizes wear and tear
Variable frequency drive eliminates sudden jolts from door start/stop
Wind resistance up to ±22 psf; operational pressure up to ±5 psf
Breakaway self-reset
Door guides are constructed of 0.188" thick high-strength steel
Approx. 200 optional RAL powder coat colors are available for guides, brackets, struts & bottom bar
Selecting the right commercial door for your business
At Hamburg Overhead Door, we understand that you want a commercial door that is going to serve your business for years to come. While these are just a few models carried by our suppliers, we can customize a commercial door to meet any specific requirements and needs to ensure optimal building performance. The new year is the perfect time to start--so let's get it done together! Contact us today to answer any commercial door questions you may have.